Cycloserine USP
Cycloserine USP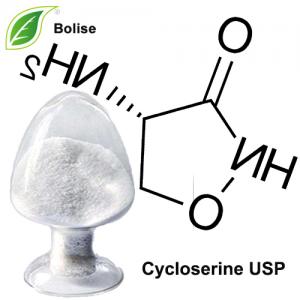 [ Synonyms ] Seromycin; Orientomycin; Oxamycin; D-Cycloserine  
[ CAS NO. ] 68-41-7
[ Molecular Formula ] C3H6N2O2 
[ Molecular weight ] 102.093
[ Appearance ] White crystalline powder
[ Application ] 
1.Tuberculosis
For the treatment of tuberculosis, cycloserine is classified as a second-line drug, i.e. its use is only considered if one or more first-line drugs cannot be used. Hence, cycloserine is restricted for use only against multiple drug-resistant and extensively drug-resistant strains of M. tuberculosis. Another reason for limited use of this drug is the neurological side effects it causes, since it is able to penetrate into the central nervous system (CNS) and cause headaches, drowsiness, depression, dizziness, vertigo, confusion, paresthesias, dysarthria, hyperirritability, psychosis, convulsions, and shaking (tremors). Overdose of cycloserine may result in paresis, seizures, and coma, while alcohol consumption may increase the risk of seizures. Coadministration of pyridoxine can reduce the incidence of some of these CNS side effects (e.g. convulsions) caused by cycloserine.
2.Psychiatry
A 2015 Cochrane review found no evidence of benefit in anxiety disorders as of 2015. Another review found preliminary evidence of benefit. Evidence for use in addiction is tentative but also unclear.
COA of D-Cycloserine 
PH: 5.8
Loss on Drying: 0.6%
Assay(HPLC): 992.0 ug/mg
Condensation products    NMT 0.80(at 285nm)
Specific rotation: +109.7°
Residue on ignition: 0.22%
About Cycloserine USP
Cycloserine is an antibiotic used to treat tuberculosis. Specifically it is used, along with other antituberculosis medications, for active drug resistant tuberculosis. It is given by mouth.
Common side effects include allergic reactions, seizures, sleepiness, unsteadiness, and numbness. It is not recommended in people who have kidney failure, epilepsy, depression, or are alcoholics. It is unclear if use during pregnancy is safe for the baby. Cycloserine is similar in structure to the amino acid d-alanine and works by interfering with the formation of the bacteria's cell wall.
For more information of product, please send the email to bkherb@globals-globals.com


After send online enquiry, we will reply you as soon as possible, if not get any response on time please contact us by Tel or Email.This form is unable to receive your inquiry from aol, hotmail, gmail or others but company email address.
E-MAIL:bkherb@globals-globals.com
TEL: +86 592 536 5868
WHATSAPP: +86 189 6516 2351