Creatine Monohydrate
Creatine Monohydrate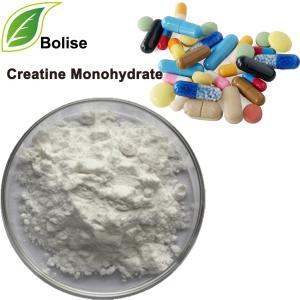 [ CAS No. ] 6020-87-7
[ Molecular Formula ] C4H9N3O2·H2O 
[ Molecular weight ] 149.15
[ Appearance ] White crystal powder
[ Melting point ] 292 °C
[ Solubility ] Slightly soluble in water, insoluble in ethanol and aether
About Creatine Monohydrate
Creatine Monohydrate is the monohydrate form of creatine similar or identical to endogenous creatine produced in the liver, kidneys, and pancreas. Creatine, in phosphate form, helps supply energy to muscle cells for contraction. After intense effort, when ATP deposits are depleted, creatine phosphate donates phosphate groups toward the fast synthesis of ATP. Dietary supplementation with creatine may improve muscle wasting associated with cancer and other chronic diseases.
For more information of product, please send the email to sales@boliseco.com


After send online enquiry, we will reply you as soon as possible, if not get any response on time please contact us by Tel or Email.This form is unable to receive your inquiry from aol, hotmail, gmail or others but company email address.
E-MAIL:sales@boliseco.com
TEL: +86 592 536 5868
WHATSAPP: +86 189 6516 2351