Cocarboxylase
Cocarboxylase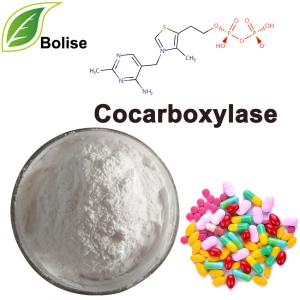 [ CAS No. ] 154-87-0
[ Molecular Formula ] C12H19N4O7P2S.Cl
[ Molecular Weight ] 460.77
[ Appearance ] White or off white powder  
About Cocarboxylase
Found in rice bran, the germ, yeast and beans. Pyrophosphate thiamine white crystalline powder. Dry goods stable, aqueous solution is not stable. Mp238-240 ℃, have the largest at 242 nm wavelength absorption. This product is soluble in water, acid water solution pH value show; Soluble in ethanol, acetone and ether.Used for vitamin B1 deficiency; Vitamin B1 to maintain normal nerve conduction, heart and normal activity of the digestive system plays an important role. Lacking, susceptible to beriberi or multiple neuritis.
For more information of product, please send the email to sales@boliseco.com


After send online enquiry, we will reply you as soon as possible, if not get any response on time please contact us by Tel or Email.This form is unable to receive your inquiry from aol, hotmail, gmail or others but company email address.
E-MAIL:sales@boliseco.com
TEL: +86 592 536 5868
WHATSAPP: +86 189 6516 2351