Ciclesonide(Alvesco)
Ciclesonide(Alvesco)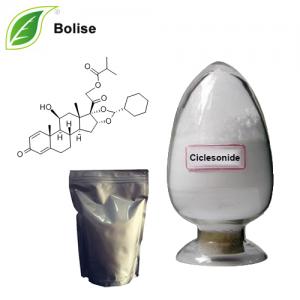 [ Synonyms ]  (11β, 16α)-16, 17-[[(R)-cyclohexylmethylene]bis(oxy)]-11-hydroxy-21- (2-methyl-1-oxopropoxy)- pregna-1, 4-diene-3, 20-dione
[ CAS NO. ]  126544-47-6
[ Molecular Formula ]  C32H44O7
[ Molecular Weight ]  540.697 g/mol
[ Appearance ]  Almost white powder
[ Density ]  1.23 g/cm3
[ Boiling Point ]  665 °C at 760 mmHg
[ Flash Point ]  210 °C
[ Melting point ]  207.5℃~208.5℃
COA of Ciclesonide(Alvesco)
Specific Optical Rotation:  +91°
Identification:
1.Absorption
2.Examine the chromatograms obtained in the test for related substances
3.Infrared absorption spectrophotomety
Appearance of solution:  Solution S is clear and colourless
Related substance:  Total impurities no more than 1.5%
Loss on drying:  0.078%
Residue on ignition: 0.05%
Chlorides:  No more than 0.02%
Heavy metals:  No more than 10ppm
Particle size:  2.759μm
Assay:  99.8%
About Ciclesonide(Alvesco)
Ciclesonide is a glucocorticoid used to treat asthma and allergic rhinitis.Ciclesonide is a novel inhaled glucocorticoid asthma treatment and belongs to the adrenal cortex hormones. Similar drugs include beclomethasone dipropionate, budesonide, and fluticasone propionate. The product is inactive. Formal administration, which is activated on the spot by endogenous esterases in the airways, converts the target organ into an active ingredient in the lung; once activated, it exhibits high local anti-inflammatory activity.
For more information of product, please send the email to bkherb@globals-globals.com


After send online enquiry, we will reply you as soon as possible, if not get any response on time please contact us by Tel or Email.This form is unable to receive your inquiry from aol, hotmail, gmail or others but company email address.
E-MAIL:bkherb@globals-globals.com
TEL: +86 592 536 5868
WHATSAPP: +86 189 6516 2351