Chrysin
Chrysin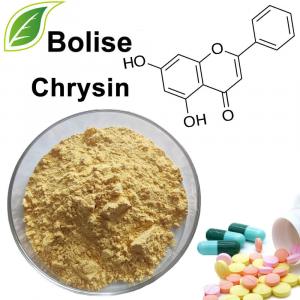 [ Other Name ] 5,7-Dihydroxyflavone
[ Source ] Oroxylum indicum(L.)Vent.
[ CAS No. ] 480-40-0
[ Molecular Formula ] C15H10O4
[ Molecular Weight ] 254.241
[ Purity ]  98% HPLC
[ Appearance ] Yellow fine powder
[ Pharmacological effects ] 
Chrysin can fight cancer, lower blood lipids, prevent cardiovascular and cerebrovascular diseases, antibacterial, anti-inflammatory, etc.
About Chrysin
Chrysin is a flavonoid compound with extensive pharmacological activity extracted from the Viridaceae plant wood butterfly. Chrysin is present in higher amounts in propolis.
Soluble in alkali hydroxide solution, slightly soluble in ether, ethanol and chloroform, insoluble in water. It exists in the seed and stem bark of oroxylum indicum (L.) vent., a plant of the family Bignoniaceae, the heartwood of Pinus mon ticola Dougl., and the heartwood of P. aristata Engelm.
Chrysin has a wide range of effects including antioxidant, antiviral, anti-hypertension, anti-diabetes, antibacterial and anti-allergy.It is the raw material for synthesizing anti-cancer, blood lipid-lowering, cardiovascular and cerebrovascular diseases prevention, antibacterial, anti-inflammatory and other drugs.
For more information of product, please send the email to [email protected]


After send online enquiry, we will reply you as soon as possible, if not get any response on time please contact us by Tel or Email.This form is unable to receive your inquiry from aol, hotmail, gmail or others but company email address.
E-MAIL:[email protected]
TEL: +86 592 536 5868
WHATSAPP: +86 189 6516 2351