Chondroitin Sulfate Sodium
Chondroitin Sulfate Sodium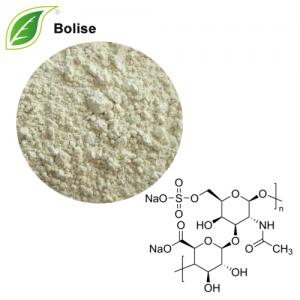 CAS No.:9082-07-9
Molecular Formula:(C14H21NO14S)n
Appearance: white to light yellow powder
Function:
1.Adjust our body
2.Purify blood and stop blood from solidification
3.Keep the nutrition balance
4.Involved in making bone
5.Protect eyes.
6.Stop from virus infection
About Chondroitin Sulfate Sodium:
Chondroitin Sulfate Sodium is extracted from healthy porcine cartilages by our exclusive extraction technology.
Chondroitin Sulfate Sodium is a major component of human cartilage and is important in maintaining the structural integrity and proper functioning of joints.
Chondroitin Sulfate Sodium can be used as adjuvant treatment for neuralgia, migraine, joint pain, and hypertension, and also for prevention of coronary atherosclerosis, blood cholesterol increase, angina pectoris, neuralgia, myocardial ischemia, and arteriosclerosis. 
Chondroitin sulfate sodium can be used as health care products, food additives have enhanced the human physique and anti bacteria, beauty, anti-aging effects. Improve hearing and dry skin. 
For more information of product, please send the email to bkherb@globals-globals.com


After send online enquiry, we will reply you as soon as possible, if not get any response on time please contact us by Tel or Email.This form is unable to receive your inquiry from aol, hotmail, gmail or others but company email address.
E-MAIL:bkherb@globals-globals.com
TEL: +86 592 536 5868
WHATSAPP: +86 189 6516 2351