Cholic Acid
Cholic Acid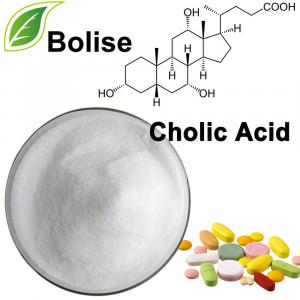 [ CAS NO. ] 81-25-4 
[ Molecular Formula ] C24H40O5
[ Molecular Weight ] 408.57
[ Appearance ]  White crystal powder
[ Function ]
1, Relieve cholecystitis.
2, For bronchitis and chronic bronchitis has a certain therapeutic effect.
3, It can reduce blood lipid and is used to treat hyperlipidemia.
4, It can inhibit diphtheria and Staphylococcus aureus.
5, It can stimulate bile secretion and treat cholangitis and cholelithiasis.
[ Application ]
1. An organic acid with steroid structure that emulsifies fat and promotes its digestion.
2. For biochemical research, pharmaceutical intermediates. Sodium cholate is a choleretic drug, which can treat cholecystitis, bile deficiency and intestinal dyspepsia.
About Cholic Acid
Cholic acid is a kind of sterols, is four major human one of the most abundant content of bile acid, derived from it and gca taurocholic acid is the main human bile acid. Liver secretion to bile in the bile salt (sodium salt of bile acid) is a powerful emulsifier.
After bile flow through the upper small intestine, bile salt emulsifying fat, help the digestion and absorption. In the emulsifying fat globules fatty acid glyceride and absorbed by the lower part of the small intestine, bile salt is absorbed by weight. They returned to the liver and be reused, so total bile salt circulation between liver and small intestine.
Cholic acid is synthesized from liver, bile into the duodenum, as one part of the digestive juice, can promote digestion and absorption of lipid.
For more information of product, please send the email to [email protected]


After send online enquiry, we will reply you as soon as possible, if not get any response on time please contact us by Tel or Email.This form is unable to receive your inquiry from aol, hotmail, gmail or others but company email address.
E-MAIL:[email protected]
TEL: +86 592 536 5868
WHATSAPP: +86 189 6516 2351