Cetilistat
Cetilistat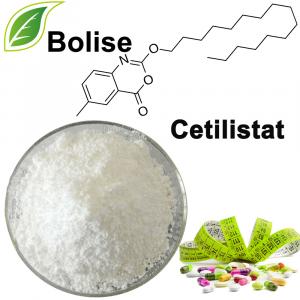 [ CAS NO. ] 282526-98-1
[ Molecular Formula ]  C25H39NO3
[ Formula Weight ] 401.591
[ Appearance ] White powder
About Cetilistat
Cetilistat is used to treat obesity and associated diseases like diabetes. It is administered along with a healthy low fat nutritious diet, abundant exercise.
Cetilistat is a lipase inhibitor and works by binding to and blocking the action of the enzyme lipase. This prevents the fat (triglycerides) in food from being metabolised and turned into free fatty acids that can be absorbed by the body. Instead, the un-metabolised fat is eliminated from the body through bowel movements. Cetilistat is different from other anti-obesity drugs because instead of acting on the brain to decrease appetite, it works on the gastrointestinal tract to block fat absorption.
For more information of product, please send the email to [email protected]


After send online enquiry, we will reply you as soon as possible, if not get any response on time please contact us by Tel or Email.This form is unable to receive your inquiry from aol, hotmail, gmail or others but company email address.
E-MAIL:[email protected]
TEL: +86 592 536 5868
WHATSAPP: +86 189 6516 2351