Ceramide
Ceramide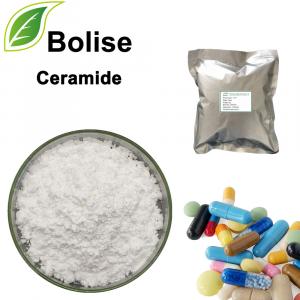 [ Appearance ] White Powder
About Ceramide
Clinical studies in dermatology have revealed that in many cases of dermatitis such as atopy, acne and psoriasis are associated with lower level of Ceramides in stratum corneum than normal skin.
Ceramides may be found as ingredients of some topical skin medications used to complement treatment for skin conditions such as eczema.
Ceramide, also known as sphingolipid, is a lipid found in the skin and plays an important role in the formation of the stratum corneum of the epidermis. It is a structural unit shared by (nerve) sphingolipids. The fatty acid has an acid amide bond structure on the amino group of sphingosine. If it binds to sugar, it becomes a glycosphingolipid, and if it binds to choline, it becomes a (neuro) sphingomyelin. Ceramide is an intermediate metabolite of sphingolipids, especially occupying an important position in biosynthesis. Only a small amount exists outside of platelets. In patients with Fabry disease, one of the hereditary lipid lipid diseases, a large amount of ceramide is accumulated in the cerebellum and kidney. Recent studies have shown that when the skin appears dry, desquamation, cracking, and its barrier function is significantly reduced, skin supplementation with ceramide can quickly restore moisturizing and barrier function.
Ceramide plays an important role in the induction of biological effects such as various cytokines, vitamin D3, Fas and CD28 ligands, and its role in mediating apoptosis is of interest. At the same time, ceramide is also involved in various physiological processes such as cell differentiation. Pathological process. Ceramide can induce apoptosis during epidermal keratinocyte culture. Ceramide is a product of sphingomyelin decomposition in the biofilm bilayer and is recognized as a second messenger; ceramide plays a broad and important role in cell growth, proliferation, differentiation, apoptosis and injury.
For more information of product, please send the email to [email protected]


After send online enquiry, we will reply you as soon as possible, if not get any response on time please contact us by Tel or Email.This form is unable to receive your inquiry from aol, hotmail, gmail or others but company email address.
E-MAIL:[email protected]
TEL: +86 592 536 5868
WHATSAPP: +86 189 6516 2351