Cefotaxime
Cefotaxime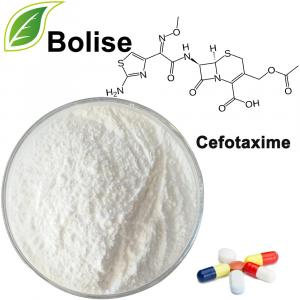 [ CAS No. ]  64485-93-4 
[ Molecular Formula ]  C16H17N5O7S2
[ Molecular Weight ] 455.46
[ Appearance ] White Powder
[ Medical uses ]
Lower respiratory tract infections - e.g. pneumonia;
Genitourinary system infections - urinary tract infections ;
Gynecologic infections;
Sepsis;
Intra-abdominal infections - e.g. peritonitis
Bone and joint infections
CNS infections
About Cefotaxime
Cefotaxime is a third-generation cephalosporin and is a broad-spectrum antibiotic. The effect on Gram-negative bacilli is significantly better than that of the first and second-generation cephalosporins, especially against influenza bacillus,Escherichia coli, Enterobacter, Citrobacter, Serratia, Klebsiella and β. - The action of lactamase-resistant Escherichia coli is stronger than that of cefoperazone, and the effect of Haemophilus producing penicillinase is the strongest. 
Cefotaxime treatment of patients with hematological malignancies has the best clinical response and long duration of bactericidal action, but the bactericidal effect on Pseudomonas aeruginosa and Enterobacter cloacae is poor.
For more information of product, please send the email to [email protected]


After send online enquiry, we will reply you as soon as possible, if not get any response on time please contact us by Tel or Email.This form is unable to receive your inquiry from aol, hotmail, gmail or others but company email address.
E-MAIL:[email protected]
TEL: +86 592 536 5868
WHATSAPP: +86 189 6516 2351