Canthaxanthin
Canthaxanthin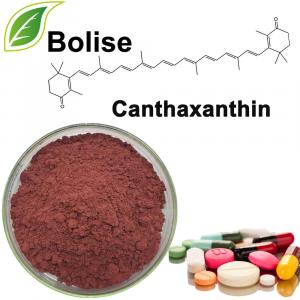 [ Chemical names ]  β-carotene-4,4'-dione; 4,4'- diketo-β-carotene
[ CAS NO. ] 514-78-3
[ Molecular Formula ] C40H52O2
[ Molecular Weight ] 564.84
[ Apparence ] Dark red small particles
About Canthaxanthin
Astaxanthin is produced by microscopic small plants: the micro-alga Haematococcus pluvialis. Haematococcus algae can contain up to 30 g of astaxanthin per kg dried algae. These micro-alga are eaten by marine animals including fish, crawfish, crabs and lobster. The Astaxanthin is responsible for the red colour of these animals. Another commercial source is from the ink coloured yeast Xanthophyllomyces dendrorhous.
For more information of product, please send the email to [email protected]


After send online enquiry, we will reply you as soon as possible, if not get any response on time please contact us by Tel or Email.This form is unable to receive your inquiry from aol, hotmail, gmail or others but company email address.
E-MAIL:[email protected]
TEL: +86 592 536 5868
WHATSAPP: +86 189 6516 2351