Calcium D-Glucarate
Calcium D-Glucarate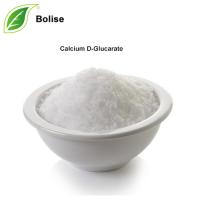 Appearance:White crystalline powder
About Calcium D-Glucarate:
Calcium D-Glucarate is a relatively common nutrient found in many fruits and vegetables. Calcium-D-Glucarate is a β-glucuronidase inhibitor that promotes the excretion of any molecule in a specific detoxification pathway. It has shown efficacy at very high (impractical) oral doses in reducing cancer induced by these compounds, but may also reduce all steroid hormones as well.
Calcium D-Glucarate is the calcium salt of D-glucaric acid, a substance produced naturally in small amounts by mammals, including humans. Glucaric acid is also found in many fruits and vegetables with the highest concentrations to be found in oranges, apples, grapefruit, and cruciferous vegetables. Calcium D-Glucarate has been shown to inhibit beta-glucuronidase, an enzyme produced by colonic microflora and involved in Phase II liver detoxification. Elevated beta-glucuronidase activity is associated with an increased risk for various cancers, particularly hormone-dependent cancers such as breast, prostate, and colon cancers. Other potential clinical applications of D-Glucarate include regulation of estrogen metabolism and as a lipid-
lowering agent.
 
For more information of product, please send the email to bkherb@globals-globals.com


After send online enquiry, we will reply you as soon as possible, if not get any response on time please contact us by Tel or Email.This form is unable to receive your inquiry from aol, hotmail, gmail or others but company email address.
E-MAIL:bkherb@globals-globals.com
TEL: +86 592 536 5868
WHATSAPP: +86 189 6516 2351