Calcium Ascorbate
Calcium Ascorbate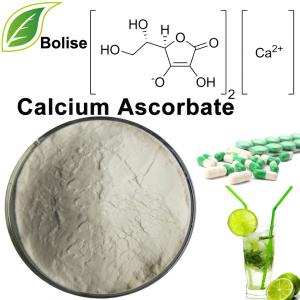 [ CAS No. ] 5743-28-2
[ Molecular Formula ]   Ca(C6H7O6)2
[ Molecular Weight ] 390.310
[ Appearance ] White to slightly yellow crystalline powder
[ Assay ] 99.5%
[ Specific rotation ] +21.0º
[ Fuction ] Antioxidants /Nutrition Enhancers
About Calcium Ascorbate:
As an antioxidant, our country stipulates that it can be used for meat products and soups, with a maximum usage of 1.0g/Kg (calculated as ascorbic acid in fat). Used for instant noodles and pastries, the maximum usage is 0.2g/Kg. Besides, it can be used as a nutrition fortification agent.
Calcium Ascorbate is mainly used in medicine, food. It can be used in pressing oral and chewing tablets directly and can be used for pressing the complex vitamin and complex tablets of Vitamin and mineral substance.
For more information of product, please send the email to sales@boliseco.com


After send online enquiry, we will reply you as soon as possible, if not get any response on time please contact us by Tel or Email.This form is unable to receive your inquiry from aol, hotmail, gmail or others but company email address.
E-MAIL:sales@boliseco.com
TEL: +86 592 536 5868
WHATSAPP: +86 189 6516 2351