Benfotiamine
Benfotiamine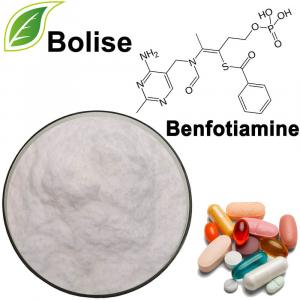 [ CAS No. ] 22457-89-2
[ Molecular Formula ] C19H23N4O6PS
[ Molecular Weight ] 466.45
[ Appearance ] White crystalline powder
[ Solubility ] Slightly soluble in water and methanol, practically insoluble in ethanol, insoluble in ether and chloroform. Soluble in sodium hydroxide, sodium carbonate, dilute hydrochloric acid solution.
[ Application ]
(1) For the prevention and treatment of vitamin B1 deficiency.
(2) For the supplementation of vitamin B1 in cases of increased demand and inadequate intake from food (fatigue, hyperthyroidism, during pregnancy, lactation, during strenuous physical work, etc.).
(3) For the treatment of non-alcoholic Wernicke's encephalopathy.
(4) For the treatment of beriberi.
(5) For the treatment of diseases presumably related to vitamin B1 deficiency and metabolic disorders such as: neuralgia; muscular pain, arthralgia; peripheral neuritis, peripheral nerve paralysis; cardiometabolic disorders; constipation and other gastrointestinal motility disorders.
About Benfotiamine
Benfotiamine is a fat-soluble analog of vitamin B1, has a higher absorption rate and bioavailability than vitamin B.It can improve the shortcomings of low bioavailability of water-soluble vitamin B1, increases the concentration of thiamine in blood and tissues, and improves the effect, and is often used as a food supplement for diabetic complications. Since the body absorbs benfotiamine better than thiamine, benfotiamine can increase how much thiamine is in the body. 
Benfotiamine has been widely marketed in the United States, Japan, Europe and other parts of the world, and its marketed dosage forms are tablets, granules and other dosage forms.
For more information of product, please send the email to [email protected]


After send online enquiry, we will reply you as soon as possible, if not get any response on time please contact us by Tel or Email.This form is unable to receive your inquiry from aol, hotmail, gmail or others but company email address.
E-MAIL:[email protected]
TEL: +86 592 536 5868
WHATSAPP: +86 189 6516 2351