β-sitosterol
β-sitosterol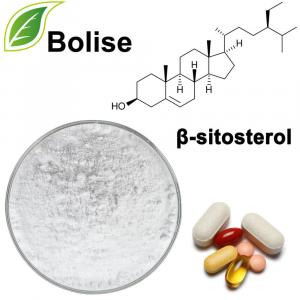 [ Other Name ] Beta-Sitosterol
[ CAS No. ] 83-46-5
[ Molecular Formula ] C29H50O
[ Molecular Weight ] 414.71
[ Appearance ] White Fine Powder
[ Function ]
1.Treating anemia, arthritis and rheumatism.
2.Protecting the respiratory system.
3.Helping urinary problems and decreases the risk of eczema.
4.Be beneficial for the treatment of asthma and benign prostate.
About β-sitosterol
β-Sitosterol is used in pharmaceutical raw materials and health food.
β-Sitosterol is widely found in various plant oils, nuts and other plant seeds in nature, and also in some botanical medicines.
β-Sitosterol has the functions of lowering cholesterol, relieving cough, expectorating phlegm, inhibiting tumor and repairing tissue. For type II hyperlipidemia, atherosclerosis and chronic bronchitis, also for early cervical cancer and skin ulcers.
For more information of product, please send the email to [email protected]


After send online enquiry, we will reply you as soon as possible, if not get any response on time please contact us by Tel or Email.This form is unable to receive your inquiry from aol, hotmail, gmail or others but company email address.
E-MAIL:[email protected]
TEL: +86 592 536 5868
WHATSAPP: +86 189 6516 2351