β-Nicotinamide Mononucleotide
β-Nicotinamide Mononucleotide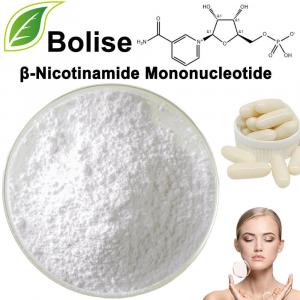 [ Other Name ] β-NM; NMN; Beta-Nicotinamide Mononucleotide
[ CAS No. ] 1094-61-7
[ Molecular Formula ] C11H15N2O8P
[ Molecular Weight ] 334.22
[ Appearance ] White Powder
[ Purity ]  99%
[ Function ]
1. Improve immunity;
2. Prevent Alzheimer's;
3. Anti-aging;
4. Improve insomnia;
5. Can activate longevity protein to improve liver damage;
6. Promote intestinal stem cell proliferation and protect intestinal health;
7. Improve cell metabolism, promote the production of energy molecules, to protect the heart;
8. Improve their aerobic exercise levels and endurance;
9. Significant improvement in type 2 diabetes;
10. Increases nutrition and energy supply in the brain, improves cognition and memory;
11. Improve vascular dysfunction and restore aging blood vessels to a youthful state;
About β-Nicotinamide Mononucleotide
β-Nicotinamide Mononucleotide is an inherent substance in the human body and is also rich in some fruits and vegetables. Because nicotinamide belongs to vitamin b3, β-Nicotinamide Mononucleotide belongs to the category of vitamin b derivatives. It is widely involved in many biochemical reactions of the human body and is closely related to immunity and metabolism.
β-Nicotinamide Mononucleotide is widely distributed in daily food, such as cauliflower and Chinese cabbage, avocado, tomatoes, meat such as raw beef are rich in NMN.
β-Nicotinamide Mononucleotide is one of the key precursors of NAD+ and the product of NAMPT reaction, which is converted to NAD+ by nicotinamide mononucleotide adenylate transferase. The decline of NAD+ during aging is considered to be a major cause of disease and disability, such as hearing and vision loss, cognitive and motor dysfunction, immunodeficiency, arthritis due to dysregulated autoimmune inflammatory responses, metabolic disorders, and cardiovascular disease.
Therefore, β-Nicotinamide Mononucleotide supplementation increases the NAD+ content in the body, thereby delaying, improving, and preventing various phenotypes associated with aging, or age-induced metabolic disorders, senile diseases, etc.
The effects of β-nicotinamide mononucleotide include its role in cellular biochemical function, cardioprotection, diabetes, Alzheimer's disease, and obesity-related complications.
Beta-nicotinamide mononucleotide has a lot of effects, it can effectively promote the division of human cells, and it has a very good effect on slowing down the speed of aging or restoring youth, and the purity of the product is relatively high. Yes, it can not only supplement some nutrients the body needs, in addition, it is very helpful for improving the activity of the body or promoting the division of cells.

After send online enquiry, we will reply you as soon as possible, if not get any response on time please contact us by Tel or Email.
E-mail: [email protected]
Tel: +86 592 536 5868
Whatsapp: +86 189 6516 2351
For more information of product, please send the email to [email protected]

1. Send Message to US ->
2. Confirm Product Information ->
3. Order & Payment->
4. Packaging&Shipping->
Our products have been certificated with the ISO certificate, free sample is available.
CGMP Manufacturer to ensure the quality stable and reliable.
All of our ingredients meet strict quality and food safety standards, and surpass industry standards for purity and cleanliness.
We are committed to meeting customers' unique needs by providing comprehensive and professional service, enjoying a good reputation among our business partners and customers for high-quality products, excellent after-sales services, competitive prices, and prompt shipping.
Highly welcome friends from all over the world to contact us. We will reply to you as soon as possible, ​after sending an online inquiry. And please feel free to call us if any urgent inquiry or without getting response from us in time.