Amphotericin B
Amphotericin B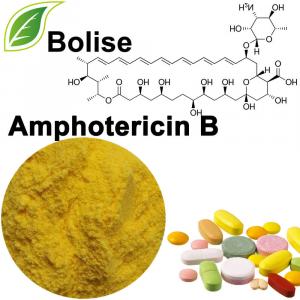 [ CAS NO. ] 1397-89-3
[ Molecular Formula ] C47H73NO17
[ Molecular Weight ] 924.091
[ Melting Point ] >118°C (dec.)
[ Appearance ] Crystalline Yellow Solid
[ Usage ] Polypeptide antibiotic active against gram positive bacteria. Antifungal.
About Amphotericin B
Amphotericin B is a polyene antifungal antibiotic. It combines with sterols on the fungal cell membrane to change the permeability of the cell membrane, so that the important cell contents are lost and play an antifungal effect.
Amphotericin B has a broad-spectrum antibacterial spectrum and is similar to Cryptococcus, Blastomyces, Candida, Coccidioides, Histoplasma, Mucor, Aspergillus, Absidia, Endomys, and Schenk Sporium Bacteria, Aspergillus fumigatus, etc. have bacteriostatic effect.
With the exception of Mycoplasma, bacteria whose cells lack sterols cannot be affected by polyene antibiotics.
Amphotericin B, as a fungal inhibitor, is often used in the preparation of selective media.

After send online enquiry, we will reply you as soon as possible, if not get any response on time please contact us by Tel or Email.
E-mail: [email protected]
Tel: +86 592 536 5868
Whatsapp: +86 189 6516 2351
For more information of product, please send the email to [email protected]

1. Send Message to US ->
2. Confirm Product Information ->
3. Order & Payment->
4. Packaging&Shipping->
Our products have been certificated with the ISO certificate, free sample is available.
CGMP Manufacturer to ensure the quality stable and reliable.
All of our ingredients meet strict quality and food safety standards, and surpass industry standards for purity and cleanliness.
We are committed to meeting customers' unique needs by providing comprehensive and professional service, enjoying a good reputation among our business partners and customers for high-quality products, excellent after-sales services, competitive prices, and prompt shipping.
Highly welcome friends from all over the world to contact us. We will reply to you as soon as possible, ​after sending an online inquiry. And please feel free to call us if any urgent inquiry or without getting response from us in time.