AHCC (Active Hexose Correlated Compound)
AHCC (Active Hexose Correlated Compound)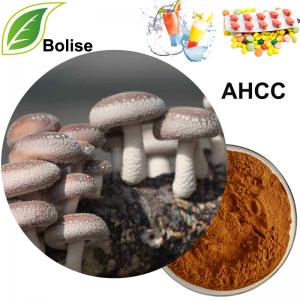 [ Source]  Shiitake mycelium mushroom root extract
[ Appearance ]  Brownish yellow powder
[ Assay ] 30%,40%,50%
[ Test Method ] UV
[ Part Used ] Fruit Body
Main Function of AHCC (Active Hexose Correlated Compound)
1. Normal cell growth and differentiation
2. Improve the immune system and anti-fatigue;
3. Anti-inflammatory;
4. Has effect on against atherosclerosis, cancer, bacterial and viral infections;
5. Anti-tumor effects, protecting liver and its detoxification;
6. Has the effect of reducing H2O2 so that it can defer senility;
Application of AHCC (Active Hexose Correlated Compound)
1. Functional food additive & health supplement;
2. Beverage;
3. Applied in pharmaceutical field, as Capsules, Softgels, Tablets products;
COA of AHCC (Active Hexose Correlated Compound)
Pesticides:  Negative 
Heavy metal:  ≤10ppm
Sulphated Ash:  2.51%
Od0r: Characteristic
Particle size: 100% pass 80 mesh
Moisture:  2.38%    
Total of bacteria:  ≤1000cfu/g
Fungi:  ≤100cfu/g
Salmonella:  Negative
Coli:  Negative
About AHCC (Active Hexose Correlated Compound)
AHCC (Active Hexose Correlated Compound) is a proprietary extract produced from specially cultivated and hybridized mushrooms.
AHCC is a molecule rich in alpha-glucan derived from the mycelium of the shiitake mushroom (Lentinula edodes) with antioxidant, anti-inflammatory and immunomodulatory properties, as well as antiproliferative.
AHCC is a rich source of polysaccharides such as beta glucan 1,3 and activated hemicellulose produced by enzymatic modification of organic medicinal mushrooms, including shiitake. It also has been shown to support normal levels of macrophages and cytokines, further strengthening the immune system.AHCC supports immune system function through its effects on macrophages and NK (Natural Killer) Cells.
AHCC is a product prepared from the mycelium of edible Basidiomycete fungi that contains oligosaccharides.AHCCR has also been shown possess antioxidant properties, and supports healthy liver function.
[ Storage ]
Store in cool & dry place; Keep away from strong light and high heat.
[ Shelf life ]
24 months when properly stored
[ Package ]
Enterprise standard. Drums or cartons, 25kgs/drum(carton),2.5kg/bag, double vacuum plastic packing (vacuum sealed foil bags) inside.
For more information of product, please send the email to sales@boliseco.com


After send online enquiry, we will reply you as soon as possible, if not get any response on time please contact us by Tel or Email.This form is unable to receive your inquiry from aol, hotmail, gmail or others but company email address.
E-MAIL:sales@boliseco.com
TEL: +86 592 536 5868
WHATSAPP: +86 189 6516 2351