Acarbose
Acarbose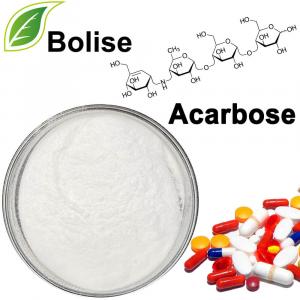 [ CAS No. ] 56180-94-0
[ Molecular Formula ] C25H43NO18
[ Molecular Weight ] 645.608
[ Appearance ] White Powder
[ Purity ]  99%
[ Function ] 
The mechanism of its hypoglycemic effect is to inhibit the competition between small intestinal parietal cells and oligosaccharides, and reversibly combine with α-glucosidase to inhibit the activity of the enzyme, thereby delaying the degradation of carbohydrates and causing the slow absorption of intestinal glucose.
About Acarbose
Acarbose, an α-glucosidase inhibitor, is a complex oligosaccharide similar in structure to oligosaccharides. This non-oligosaccharide "pseudo-oligosaccharide" can interact with Sugar competes with α-glucosidase and reversibly combines with α-glucosidase, inhibits the activity of various α-glucosidase such as maltase, isomaltase, glucoamylase and sucrase, and decomposes starch into oligosaccharides such as maltose (disaccharide) , Maltotriose and dextrin (oligosaccharides) are further decomposed into glucose, which slows down the decomposition of sucrose into glucose and fructose, thus slowing the absorption of intestinal glucose, thereby relieving postprandial hyperglycemia and achieving blood sugar lowering effect. Long-term use can reduce the concentration of fasting blood sugar and glycosylated hemoglobin.
Acarbose is a new type of oral hypoglycemic agent. It competitively inhibits glucosidase in the intestine, which can reduce the decomposition of polysaccharide and sucrose to generate glucose, reduce and delay the absorption, so it has the effect of reducing postprandial hyperglycemia and plasma insulin concentration. It can be used to treat insulin-dependent or non-insulin-dependent diabetes mellitus.
For more information of product, please send the email to [email protected]


After send online enquiry, we will reply you as soon as possible, if not get any response on time please contact us by Tel or Email.This form is unable to receive your inquiry from aol, hotmail, gmail or others but company email address.
E-MAIL:[email protected]
TEL: +86 592 536 5868
WHATSAPP: +86 189 6516 2351