Octreotide
Octreotide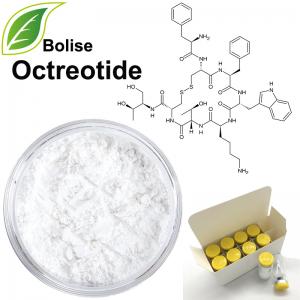 CAS : 83150-76-9
Molecular formula : C49H66N10O10S2 
Product description :
Octreotide (brand name Sandostatin, Novartis Pharmaceuticals) is an octapeptide that mimics natural somatostatin pharmacologically, though it is a more potent inhibitor of growth hormone, glucagon, and insulin than the natural hormone. It was first synthesized in 1979 by the chemist Wilfried Bauer.The Food and Drug Administration (FDA) has approved the usage of a salt form of this peptide, octreotide acetate, as an injectable depot formulation for the treatment of acromegaly, the treatment of diarrhea and flushing episodes associated with carcinoid syndrome, and treatment of diarrhoea in patients with vasoactive intestinal peptide-secreting tumors (VIPomas).
For more information of product, please send the email to sales@boliseco.com


After send online enquiry, we will reply you as soon as possible, if not get any response on time please contact us by Tel or Email.This form is unable to receive your inquiry from aol, hotmail, gmail or others but company email address.
E-MAIL:sales@boliseco.com
TEL: +86 592 536 5868
WHATSAPP: +86 189 6516 2351