Branched-chain Amino Acid(BCAA)
Branched-chain Amino Acid(BCAA)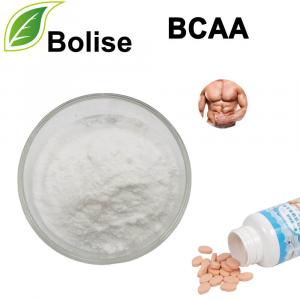 [ Appearance ] white powder
[ Function ]
1)  Supports extreme muscle growth;
2)  Builds strength and tremendous power;
3)  Timed release to support anti-catabolic effects;
4)  Support increased strength and mass;
5)  leucine critical for mTOR signal for protein synthesis;
6)  BCAA and leucine may support improved recovery and reduced soreness;
7)  Promote increased endurance exercise capacity;
8)  Supplementation provides support against catabolism;
9)  Leucine and muscle protein metabolism.
About Branched-chain Amino Acid(BCAA)
A branched-chain amino acid(BCAA) is an amino acid having aliphatic side-chains with a branch (a central carbon atom bound to three or more carbon atoms). Among the proteinogenic amino acids, there are three BCAAs: leucine, isoleucine, and valine.
Branched-chain amino acid((BCAA) is the most important and effective nutritional supplements for people who love to exercise. 
BCAA can slow down muscle fatigue, accelerate recovery, reduce the loss of other amino acids from muscles during exercise, and help the body absorb protein. Lack of one of these three will result in muscle loss.
Unlike other amino acids, BCAA is metabolized in muscle, not in the liver. When you want to train a stronger and more powerful body, it is necessary to stimulate and energize your muscles at the cellular level. Branched chain amino acids (valine, leucine, isoleucine) make up almost 1/3 muscle protein.
For more information of product, please send the email to [email protected]


After send online enquiry, we will reply you as soon as possible, if not get any response on time please contact us by Tel or Email.This form is unable to receive your inquiry from aol, hotmail, gmail or others but company email address.
E-MAIL:[email protected]
TEL: +86 592 536 5868
WHATSAPP: +86 189 6516 2351