Artemether
Artemether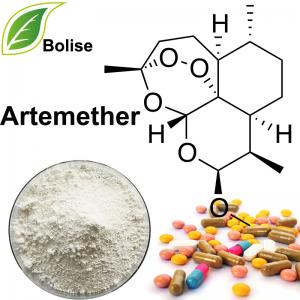 Synonyms :  [3R-(3R,5aS,6S,8aS,9R,10R,12S,12aR**)]-Decahydro-10-methoxy-3,6,9-trimethyl-3,12-epoxy-12H-pyrano[4,3-j]-1,2-benzodioxepin
CAS: 71963-77-4
Molecular Formula: C16H26O5 
Molecular Weight: 298.4 
Product description:
Apply to each model of malaria, but it is mainly used for resistance to chloroquine malignant type of falciparum malaria treatment and disaster emergency.
Artemether is an antimalarial for the treatment of multi-drug resistant strains of falciparum malaria. It is combined with Lumefantrine and sold by Novartis under the brand names Riamet and Co-Artem.Artemether is highly effective against the blood schizonts of both malarial parasites P. falciparum and P. vivax. It is applied in combination with lumefantrine in clinical treatments of malaria.
For more information of product, please send the email to sales@boliseco.com


After send online enquiry, we will reply you as soon as possible, if not get any response on time please contact us by Tel or Email.This form is unable to receive your inquiry from aol, hotmail, gmail or others but company email address.
E-MAIL:sales@boliseco.com
TEL: +86 592 536 5868
WHATSAPP: +86 189 6516 2351