Wood Butterfly Extract
Wood Butterfly Extract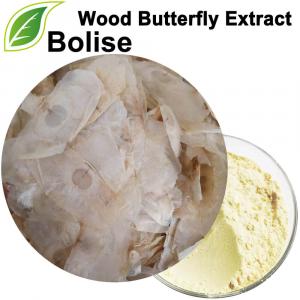 [ Latin Name ] Oroxylum indicum(L.)Vent.
[ Part used ] Bark
[ Specification ]  Chrysin 98%
[ Active Ingredient ]  Chrysin
[ Appearance ] Light Yellow Powder
[ Test Method ] HPLC
[ Function ]
1. Can anti-inflammatory,anti-microbico and antiviral;
2. Can asthma prevention or treatment;
3. Can decrease blood sugar;
4. Can boost immunity;
5. Can anti-cancer, inhibit cancer cells;
About Wood Butterfly Extract
Wood Butterfly Extract has the function of antioxidant activity,antiviral activity,antidiabetic action,reducing blood lipids,depressing blood pressure and preventing gene mutation. It also can suppress tumor cell multiplication and induce tumor cell apoptosis and has aromatase-inhibitory action.
Chrysin is a kind of flavonoid compound with extensive pharmacological activity, which is extractedfrom the wood butterfly.
Flavonoid is the main components of wood butterfly extract,it has certain pharmacological effects in anti-inflammatory, anti-allergic, anti-microbial, anti-tumor and other aspects.
For more information of product, please send the email to [email protected]


After send online enquiry, we will reply you as soon as possible, if not get any response on time please contact us by Tel or Email.This form is unable to receive your inquiry from aol, hotmail, gmail or others but company email address.
E-MAIL:[email protected]
TEL: +86 592 536 5868
WHATSAPP: +86 189 6516 2351