Watermelon Seed Extract
Watermelon Seed Extract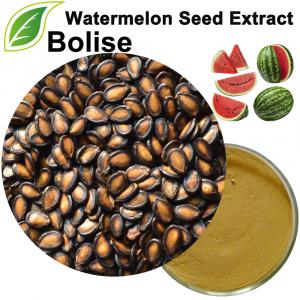 [ Latin Name ] Citrullus lanatus
[ Part of Used ] Seed
[ Specifications ]  Protein 50%/10:1TLC
[ Appearance ] Light Yellow fine powder
[ Application ] Medicine, food additive, dietary supplement,sports nutrition
[ Function ]
1.Anti-Radiation and treatment of cough.
2.Drive away heat and detoxification
3.Lower Blood Pressure. 
4.Can increase the elasticity of skin.
About Watermelon Seed Extract
Watermelon seed extract contains fatty oil, protein, vitamin B2, pentosan, starch, crude fiber, alpha amino - beta - (pyrazole - N) propionic acid. And urease, alpha galactose glucoside enzyme, beta galactose glucoside enzyme and invertase. Also contain Cucurbocitrin saponins, have antihypertensive effect, and can alleviate symptoms of acute bang bladder inflammation.
For more information of product, please send the email to [email protected]


After send online enquiry, we will reply you as soon as possible, if not get any response on time please contact us by Tel or Email.This form is unable to receive your inquiry from aol, hotmail, gmail or others but company email address.
E-MAIL:[email protected]
TEL: +86 592 536 5868
WHATSAPP: +86 189 6516 2351