Vitex Trifolia Fruit Extract(5% vitexicarpin)
Vitex Trifolia Fruit Extract(5% vitexicarpin)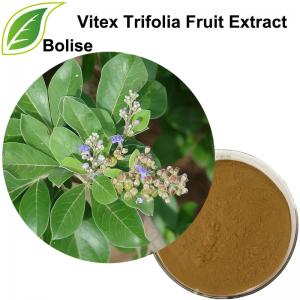 [ Botanical Name ] Vitex agnus-castus 
[ Used Part ]  Fruit
[ Appearance ] Green to olive green powder
[ Test Method ] HPLC
[ Active Ingredients ] vitexicarpin
COA of Vitex Trifolia Fruit Extract(5% vitexicarpin)
Loss on drying:  3.05%
Ash: 2.20%
Mesh Size: 100% pass 80 mesh
Ratio extract:  10:1
Heavy metal: ≤15ppm
Pb: ≤2.0ppm
As: ≤1.0ppm
Residual Pesticide: Negative
Total Plate Count: ≤1000cfu/g
Yeast & Mold: ≤100cfu/g
Salmonella:  Negative
E. Coli: Negative
Function of Vitex Trifolia Fruit Extract
1.Treatment of cardiovascular diseases;
2.Anti-cancer anti-tumor natural medicine ingredients;
3.Lower blood pressure
4.Analgesic, anti-inflammatory effect
Application of Vitex Trifolia Fruit Extract
1. As raw materials of analgesic and drugs for anti-bacterial and anti-viral , it is mainly used in pharmaceutical field;
2. As active ingredients of products for female menopause and irregular menstruation, it is mainly used in health product industry.
About Vitex Trifolia Fruit Extract(5% vitexicarpin)
The source of Vitex Trifolia Fruit Extract is the dried mature fruit of Vitex trifolia Linn. var. trifolia, or Vitex trifolia L., which is harvested when the fruits ripen in autumn and removed impurities and dried. 
Fructus viticis extract has the functions of evacuating wind and heat from body inside as well as keeping sober. The extract contains some materials such as pinene and camphene, as well as some alkaloids and vitamins, which can supplement the lack of nutrients and water for the skin thus making the skin appear full and moist.
The fruits and leaves of Vitex Trifolia Extract contain volatile oils. 
[ Storage ]
Store in cool & dry place; Keep away from strong light and high heat.
[ Shelf life ]
24 months when properly stored
[ Package ]
Enterprise standard. Drums or cartons, 25kgs/drum(carton),2.5kg/bag, double vacuum plastic packing (vacuum sealed foil bags) inside.
For more information of product, please send the email to [email protected]


After send online enquiry, we will reply you as soon as possible, if not get any response on time please contact us by Tel or Email.This form is unable to receive your inquiry from aol, hotmail, gmail or others but company email address.
E-MAIL:[email protected]
TEL: +86 592 536 5868
WHATSAPP: +86 189 6516 2351