Vernonia Cinerea Extract
Vernonia Cinerea Extract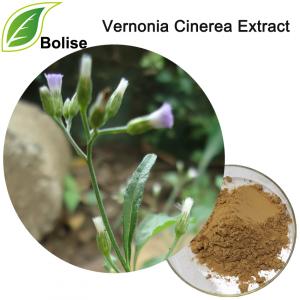 [ Latin Name ] Vernonia cinerea (L). Less
[ Appearance ]  Brown Yellow powder
[ Specification ] 4:1; 10:1; 20:1; 50:1
[ Part of the Plant Used ] Herb(Natural dried)
[ Function ]
1. It has the functions of dissipating wind, cooling blood, detoxifying and soothing.
2. Used for fever, cough, dysentery, jaundice hepatitis, neurasthenia;
3. External use for the treatment of large swelling, snake bite.
About Vernonia Cinerea Extract
Vernonia Cinerea Extract is a plant distributed in grassy areas in Southeast Asia and has several pharmacological effects, including antidiabetic activity. 
The juice of the plant is given to children with urinary incontinence. The leaves are eaten as a potherb. A decoction of it is also given in diarrhea, stomachache and for cough and colic.
For more information of product, please send the email to sales@boliseco.com


After send online enquiry, we will reply you as soon as possible, if not get any response on time please contact us by Tel or Email.This form is unable to receive your inquiry from aol, hotmail, gmail or others but company email address.
E-MAIL:sales@boliseco.com
TEL: +86 592 536 5868
WHATSAPP: +86 189 6516 2351