Triticum Vulgare (Wheat) Germ Extract
Triticum Vulgare (Wheat) Germ Extract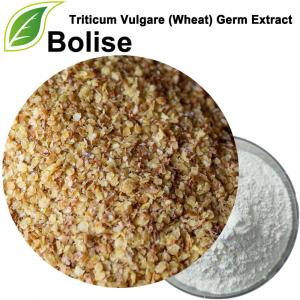 [ Other Name ] Triticum Vulgare Germ Extract
[ Latin Name ] Triticum vulgare
[ Part Used ] seed
[ Appearance ] Off-white fine powder
[ Specification ] 99% 
[ Function ]
1. It can delay the aging of the skin and enhance the moisturizing power of the skin.
2. Rich in amino acids, it has the effect of promoting metabolism.
3. Contains a large amount of linolenic acid and vitamin E, which has the effect of whitening the skin.
4. Can dilute fine lines, stretch marks, etc.
5. Can prevent spots, dark spots and pigmentation.
[ Use ]
Used as skin- and hair conditioner and skin protectant
About Triticum Vulgare (Wheat) Germ Extract
Triticum Vulgare (Wheat) Germ Extract is an extract of the germ of the wheat, Triticumvulgare.
Triticum Vulgare (Wheat) Germ Extract is rich in unsaturated fatty acids, vitamin A, vitamin B1, B2, vitamin C, vitamin D, folic acid, etc., especially the content of vitamin E is the highest in food; it also contains calcium, iron, zinc, selenium, potassium, etc. 10 various minerals,it is a very ideal trace element.
The main role of Triticum Vulgare (Wheat) Germ Extract in cosmetics and skin care products is antioxidant, whitening and freckle removal. It has a good effect on the proliferation of fibroblasts, and shows a good skin rejuvenation and anti-aging effect.
Inhibition of collagenase and elimination of DPPH, the nutrients contained in it can enhance the metabolism of the human body, adjust the function of the nervous system, make the skin delicate and smooth, inhibit and delay the production of wrinkles.
It can inhibit the activity of B-16 cells, and its inhibitory ability is worse than that of arbutin, but it can also be used as a whitening agent.
For more information of product, please send the email to [email protected]


After send online enquiry, we will reply you as soon as possible, if not get any response on time please contact us by Tel or Email.This form is unable to receive your inquiry from aol, hotmail, gmail or others but company email address.
E-MAIL:[email protected]
TEL: +86 592 536 5868
WHATSAPP: +86 189 6516 2351