Tremella Fuciformis Extract(Tremella Extract)
Tremella Fuciformis Extract(Tremella Extract)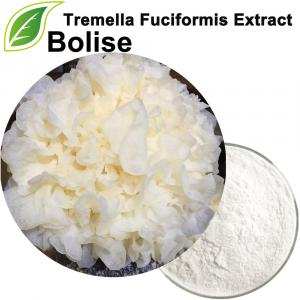 [ Latin Name ]  Tremella fuciformis L.
[ Active Ingredient ]  Polysaccharides,Cordyceptic Acid
[ Plant used ] Whole Herb
[ Test method ] UV
[ Appearance ] Off-white powder
[ Function ]
1. Has cosmetic effect;
2. Enhance immunity;
3. Anti-fatigue;
4. Strengthen hematopoietic function;
About Tremella Fuciformis Extract(Tremella Extract)
Tremella fuciformis extract is a water-soluble polysaccharide and an alkali-soluble polysaccharide. Easy to absorb, insoluble in organic solvents such as ethanol, acetone and ether.
Tremella fuciformis extract is a soluble polysaccharides, Tremella fuciformis polysaccharides shows wide-ranging anti-ageing properties as well as potential for use alongside conventional treatment. 
Tremella fuciformis extract has high concentration of whitening and moisturizing active ingredients and good whitening and moisturizing effect.
For more information of product, please send the email to [email protected]


After send online enquiry, we will reply you as soon as possible, if not get any response on time please contact us by Tel or Email.This form is unable to receive your inquiry from aol, hotmail, gmail or others but company email address.
E-MAIL:[email protected]
TEL: +86 592 536 5868
WHATSAPP: +86 189 6516 2351