Thunder God Vine Extract
Thunder God Vine Extract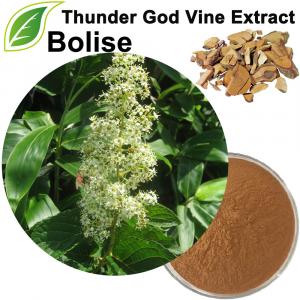 [ Latin name ]  Tripterygium wilfordii Hook.f.
[ Part of used ]  Stem
[ Specification ] 4:1; 8:1; 10:1
[ Appearance ]  Brown Powder
[ Application ]
1. Widely used in pharmaceutical field;
2. Widely used in health care products.
About Thunder God Vine Extract(Tripterygium Wilfordii Extract)
Thunder God Vine Extract recently has been investigated as a treatment for a variety of disorders including rheumatoid arthritis, cancer, chronic hepatitis, chronic nephritis, ankylosing spondylitis, polycystic kidney disease as well as several skin disorders.
Thunder God Vine Extract is also under investigation for its apparent antifertility effects, which it is speculated, may provide a basis for a Male oral contraceptive. Triptolide, a diterpene triepoxide, is a major active component of extracts derived from Tripterygium wilfordii. Triptolide has multiple pharmacological activities including anti-inflammatory, immune modulation, antiproliferative and proapoptotic activity.
For more information of product, please send the email to [email protected]


After send online enquiry, we will reply you as soon as possible, if not get any response on time please contact us by Tel or Email.This form is unable to receive your inquiry from aol, hotmail, gmail or others but company email address.
E-MAIL:[email protected]
TEL: +86 592 536 5868
WHATSAPP: +86 189 6516 2351