Sweet Corn Extract
Sweet Corn Extract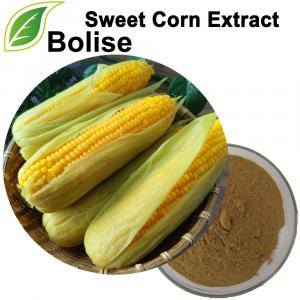 [ Latin Name ] Zea mays L.
[ Appearance ] Brown yellow Powder
[ Part Used ] Fruit
[ Specification ] 10:1
[ Effect ]
1. Rich in vitamins and carotene, it can lower cholesterol, lower blood pressure, prevent arteriosclerosis and Alzheimer's disease;
2. It can protect eyes, improve eyesight, and prevent eye aging;
3. Can promote cell division and delay aging;
4. Containing selenium and cellulose, it can also promote the excretion of toxins and carcinogens in the body, and has the effect of preventing cancer.
About Sweet Corn Extract
The main active components of sweet corn extract are fat oil, volatile oil, gum-like substances, resin, picroside, saponin, alkaloids, organic acids and so on. 
Sweet Corn Extract can be used in conditions of high uric acid such as gout and some types of arthritis. It helps to reduce conditions of painful swelling. It is used for a wide range of genito-urinary complaints, but it is often combined with herbs that have more antiseptic qualities, while Sweet Corn Extract helps soothe irritated tissue. Even though it is diuretic, it can also benefit frequent urination by soothing bladder irritation. Chinese research indicates that Sweet Corn Extract reduces hypertension and reduces blood clotting time.
For more information of product, please send the email to [email protected]


After send online enquiry, we will reply you as soon as possible, if not get any response on time please contact us by Tel or Email.This form is unable to receive your inquiry from aol, hotmail, gmail or others but company email address.
E-MAIL:[email protected]
TEL: +86 592 536 5868
WHATSAPP: +86 189 6516 2351