Sulforaphane
Sulforaphane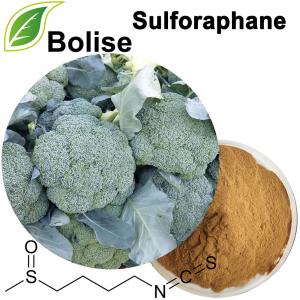 [ Plant Sources ]  Broccoli, Bok choy, and Cabbage
[ CAS NO. ] 4487-93-7
[ Molecular Formula ] C6H11NOS2
[ Molecular Weight ] 177.29
[ Appearance ] Brown yellow powder
[ Specification ] 10%
[ Functions ]
1. It has the function of anti-cancer, and effectively improving capability of blood scavenging;
2. It has the great effect to prevent and regulate hypertension;
3. It has the function of enhancing liver detoxification, improve immunity;
4. It has the function of reducing blood sugar and cholesterol.
5. It can be used for anti-cancer and can effectively prevent gastric ulcer, atrophic gastritis transforming to gastric cancer;
[ Application ]
1. Health care products. soft capsule, hard capsule, tablet and other dosage forms,
2. Nutriceuticals, dietary supplement, Functional food, drinks & beverage;
About Sulforaphane
Sulforaphane is a compound within the isothiocyanate group of organosulfur compounds. Sulforaphane also known as radish Sulphur content in broccoli, kale, northern round red radish and other cruciferous plants rich.
Sulforaphane is a common anti-oxidants, and the anticancer effect of the best plant active substance found in the vegetable.It has strong antioxidant capacity and is recognized as one of the natural products with cosmetic effects.
Sulforaphane, SFN, one of the most promising anticancer active substances, is by far the most anticancer active substance found in vegetables. SFN has anti - oxidation and anti - ultraviolet function.It can cause apoptosis and cell block in cancer cells.
For more information of product, please send the email to [email protected]


After send online enquiry, we will reply you as soon as possible, if not get any response on time please contact us by Tel or Email.This form is unable to receive your inquiry from aol, hotmail, gmail or others but company email address.
E-MAIL:[email protected]
TEL: +86 592 536 5868
WHATSAPP: +86 189 6516 2351