Spreading Hedyotis Herb Extract
Spreading Hedyotis Herb Extract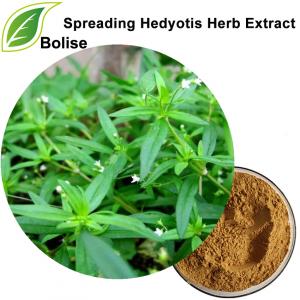 [ Latin Name ] Saposhnikovia Divaricata(Turcz.)Schischk.
[ Test Method ] TLC
[ Specifications ] 4:1 10:1 20:1
[ Appearance ] Brown Yellow Powder
[ Part used ]  Whole Plant
[ Main function ]
1, Anti-bacteria
2, Anti-inflammation
3, Anti-tumor
4, Anti-virus
5, Enhances immune system
[ Application  ] 
1.Applied in health product field.
2.Applied in pharmaceutical field.
About Spreading Hedyotis Herb Extract
Spreading Hedyotis Herb Extract can clear away heat and reduce toxins, eliminate inflammation in the body; moreover, Spreading Hedyotis Herb Extract is rich in sterol compounds, so it is inhibitory against many pathogenic bacteria; in addition, it has the effects of fighting against cancer and lowering blood pressure.
Spreading Hedyotis Herb Extract has long been used as an important component in several Chinese medicine formulae to clinically treat various types of cancer, including colorectal cancer (CRC).Previously, we reported that HDW inhibits CRC growth via the induction of cancer cell apoptosis and the inhibition of tumor angiogenesis.
For more information of product, please send the email to sales@boliseco.com


After send online enquiry, we will reply you as soon as possible, if not get any response on time please contact us by Tel or Email.This form is unable to receive your inquiry from aol, hotmail, gmail or others but company email address.
E-MAIL:sales@boliseco.com
TEL: +86 592 536 5868
WHATSAPP: +86 189 6516 2351