Spilanthes Acmella Extract
Spilanthes Acmella Extract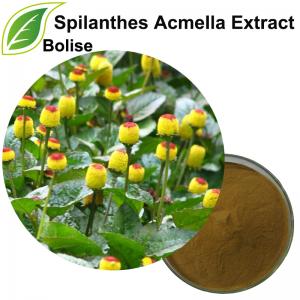 [ Botanical Name ] Spilanthes acmella
[ Used Part ] Root
[ Appearance ]  Brown Fine Powder
[ Specification ]  10:1,20:1 
COA of Spilanthes Acmella Extract
Loss on drying: 2.64%
Mesh Size:  100% pass 80 mesh
Extract Ratio:  10:1
Heavy metal: ≤10ppm
As: ≤0.5ppm
Pb: ≤0.5ppm
Cd: ≤0.5ppm
Residual Pesticide: Negative
Total Plate Count: ≤1000cfu/g
Yeast & Mold: ≤100cfu/g
Salmonella:  Negative
E. Coli:  Negative
Function of Spilanthes Acmella Extract
1. Assist in relieving the pain caused by different types of oral diseases.
2. Elevated Testosterone and Luteinizing Hormone.
3. Expelling wind, promoting digestion, treating constipation
4. Diuretic, stanching and relieving diarrhea
5. Improving blood circulation and pain relief, treating rheumatoid arthritis
About Spilanthes Acmella Extract
Spilanthol, in the form of an Spilanthes Acmella Extract, inhibits contractions in subcutaneous muscles, notably those of the face, and can be used as an anti-wrinkle product. A cosmetic treatment procedure for wrinkles consists of locally or subcutaneously applying an effective quantity of a composition based on spilanthol pure or in the form of an Spilanthes Acmella Extract.It is also used as a Cardio protective, useful in hemorrhage, menprrhagia, leucorrhoea,and discharge of blood from uterus. 
Spilanthes Acmella extract presents certain antioxidant activities to the skin, which give it progressive myorelaxant and fast-working abilities, even at lower concentrations.
For more information of product, please send the email to bkherb@globals-globals.com


After send online enquiry, we will reply you as soon as possible, if not get any response on time please contact us by Tel or Email.This form is unable to receive your inquiry from aol, hotmail, gmail or others but company email address.
E-MAIL:bkherb@globals-globals.com
TEL: +86 592 536 5868
WHATSAPP: +86 189 6516 2351