Rooibos Tea Extract(Dr Tea Extract)
Rooibos Tea Extract(Dr Tea Extract)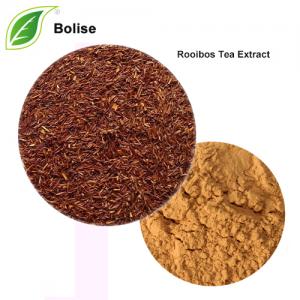 Plant Source: Aspalathus Linears
Appearance: brownish yellow fine powder
Specifications: 4:1
Detection method: TLC
Active ingredient: Superoxide Dismutase
Benefits:
1.Anti-aging, anti-oxidation, anti-mutation, has a strong anti-cancer effect
2.Regulate insomnia, regulate the stomach, regulate blood pressure and blood lipids
3.Beauty body sculpting, it has the effect of alleviating skin allergies
About Rooibos Tea Extract(Dr Tea Extract):
Rooibos Tea Extract also known as the Aspalathus Linearis plant.  It is an antioxidant ingredient that is becoming very popular in the Natural and Organic Skin Care products market because of its healing and anti aging properties.  Many companies are turning to ingredients like Rooibos Tea as an organic alternative to harsh chemicals on the market.  Rooibos Tea Extract is also mild enough for all skin types, both men and women and people of all ages.
Rooibos Tea Extract has also been round to be anti-fungal, anti-allergic and anti-bacterial.  It is also great for sensitive, dry and problem skin types.
Rooibos Tea Extract may be of value in prophylaxis of the diseases involving a severe defect in Th1 immune response such as cancer, allergy, AIDS, and other infections. Rooibos Tea Extract can help the body absorb minerals, promotes the body's metabolism, improves blood circulation and supplements human trace elements.
Rooibos Tea Extract is used in skin care products including soaps, sunscreens, lotions, etc. It can effectively prevent the spread of skin cancer and delay the proliferation of malignant tumors. The lower concentration of Rooibos Tea Extract has the ability to prevent cancer cells from multiplying and causing them to "suicide", effectively preventing the spread of cancer cells. Under ultraviolet light, Rooibos Tea Extract can repair the damage caused by cancer cells.
For more information of product, please send the email to sales@boliseco.com


After send online enquiry, we will reply you as soon as possible, if not get any response on time please contact us by Tel or Email.This form is unable to receive your inquiry from aol, hotmail, gmail or others but company email address.
E-MAIL:sales@boliseco.com
TEL: +86 592 536 5868
WHATSAPP: +86 189 6516 2351