Rice Bran Extract Powder
Rice Bran Extract Powder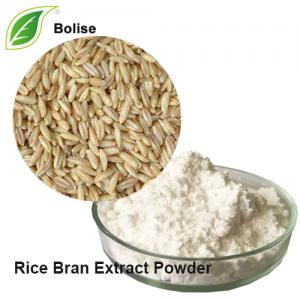 [ Botanical Name ]  Oryza sativa L.
[ Appearance ] Off-white Powder
[ Specification ]  98% Ferulic Acid
[ Used Part ]  Seed
[ Test Method ]  HPLC
[ Grade ]  Food, Healthcare products.etc.
[ Active Ingredients ]  Ceramide   
COA of Rice Bran Extract Powder
1. Chemical Control 
Pesticides:  Negative
Heavy metal:  ≤10ppm
Sulphated Ash:   2.06%
Crude Protein:   ≤13%
Crude Fiber:  ≤6%
2. Physical control 
Particle size: 100% pass 80 mesh 
Moisture:  1.33%
3. Microbiological
Total of bacteria:   ≤1000cfu/g 
Fungi:  ≤100cfu/g 
Salmonella:  Negative 
Coli:   Negative  
About Rice Bran Extract Powder
Rice Bran Extract Powder is an herbal supplement in powder form. This product is most commonly used in nutraceutical, nutritional supplement, and food additive.
Rice Bran Extract Powder is the hard outer part of the grain that consists of 'aleurone', a form of protein found in the protein granules of maturing seeds.
Rice Bran Extract Powder composes of many nutritious substances like protein, fat, fiber, various anti-oxidants, etc. that have a beneficial effect on human health. 
It helps in reducing the level of cholesterol, thereby reducing the risks of heart attacks in human beings. The presence of dietary fibers and whole grains helps in preventing the occurrence of Type II diabetes. Rice bran also helps in reducing high blood pressure as well as intestinal cancer.
Rice bran's antioxidants work through different processes to result in positive effects on the biological system. Rice bran also serves as a natural source of phytosterols, which provide blood-sugar control, prostate health and cholesterol metabolism. Rice bran is naturally lactose-free, gluten-free and hypoallergenic, making it a tolerable health product for a variety of tastes. 
For more information of product, please send the email to bkherb@globals-globals.com


After send online enquiry, we will reply you as soon as possible, if not get any response on time please contact us by Tel or Email.This form is unable to receive your inquiry from aol, hotmail, gmail or others but company email address.
E-MAIL:bkherb@globals-globals.com
TEL: +86 592 536 5868
WHATSAPP: +86 189 6516 2351