Rhizoma Cibotii Extract
Rhizoma Cibotii Extract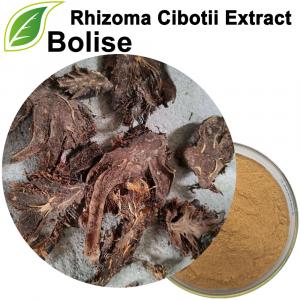 [ Latin Name ] Cibotium barometz(L.)J.Sm
[ Specification ]  10:1
[ Plant Used ]  Herb
[ Appearance ]  Brown yellow fine powder
[ Uses ]  health products, beverages and food additives.
[ In Health care industry ]
1. Invigorating the kidney
2. Protect the stomach
3. Good hemostatic effect, help to promote the development of human health
About Rhizoma Cibotii Extract
The main function of Rhizoma Cibotii Extract is to invigorate the kidneys. Rhizoma Cibotii Extract is an excellent tonic health supplement, and the effect is stable and there will be no discomfort. Rhizoma Cibotii Extract effectively promotes protein growth in the body, accelerates the speed and smoothness of protein synthesis, and the health of protein body cells makes our body's overall immunity stronger.
Rhizoma Cibotii Extract has a very good therapeutic and relaxing effect on cardiovascular diseases. Rhizoma Cibotii Extract can dilate our blood vessels and detract from our blood problems caused by the loss of qi. Rhizoma Cibotii Extract is very effective in neutralizing blood. It can be said that Rhizoma Cibotii Extract has a prominent effect on reducing blood pressure, so it can make timely adjustment and control of cardiovascular diseases.
For more information of product, please send the email to [email protected]


After send online enquiry, we will reply you as soon as possible, if not get any response on time please contact us by Tel or Email.This form is unable to receive your inquiry from aol, hotmail, gmail or others but company email address.
E-MAIL:[email protected]
TEL: +86 592 536 5868
WHATSAPP: +86 189 6516 2351