Rabdosia Rubescens Extract
Rabdosia Rubescens Extract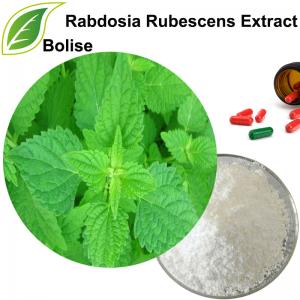 [ Botanical Name ] Rabdosia lophanthoides (Ham. ex D. Don) Hara
[ Active ingredient ] Oridonin
[ Appearance ] Llight yellow to white neddle-like crystal 
[ Used Part ] Leaf
[ Specifications ] 4:1~20:1 ration extract 
[ Water Soluble ]  Water
Function of Rabdosia Rubescens Extract 
1.Remove the toxic matters from one body;
2.Has a strong inhibition on a variety of cancer cells.
3.Turns the digestion and blood cyclic system into better;
4.Used to cure sore throat having the function of releasing pain;
5.Used for anti-bacterial, anti-tumor, killing Qingrejiedu, anti-inflammatory,pain, stomach blood and other effects.
Application of Rabdosia Rubescens Extract
1.  Applied in Pharmaceutical health care products;
2.  Used in the fields of medicine and health products.   
About Rabdosia Rubescens Extract
Rabdosia rubescens extract is a Magical Herb Tea. Rabdosia rubescens extract is meticulously extracted from a kind of mysterious herb--Rabdosia Rubescens Hara that grows in the green and ecological base--Wang Wu Mountains in China. In winter, only Rabdosia rubescens extract in nature is covered with full of ice which is as thin as cicadas wings and shaped like butterfly or other special and magical shapes. Rabdosia rubescens extract shines and looks like crystal under the sunshine covered with a mysterious color.
Rabdosia rubescens extract is made mainly by the alcohol extract, extraction, chromatography, crystallization and other processes to complete.The rabdosia rubescens extract is prepared from water extract and alcohol extract of rabdosia rubescens, and has a good inhibiting effect on cells of gastric cancer, esophagus cancer, nasopharynx cancer, breast cancer, metrocarcinoma, lung cancer, ovarian cancer, rectal cancer, renal cancer, skin cancer, cerebral cancer, lymph cancer, laryngocarcinoma or leukemia.
For more information of product, please send the email to [email protected]


After send online enquiry, we will reply you as soon as possible, if not get any response on time please contact us by Tel or Email.This form is unable to receive your inquiry from aol, hotmail, gmail or others but company email address.
E-MAIL:[email protected]
TEL: +86 592 536 5868
WHATSAPP: +86 189 6516 2351