Pisum Sativum (Pea) Extract
Pisum Sativum (Pea) Extract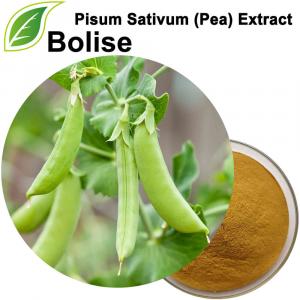 [ Other Name ]  Garden Pea Extract
[ Latin Name ] Pisum sativum L.
[ Appearance ]  Brown Yellow Powder
[ Specification ]  10:1
About Pisum Sativum (Pea) Extract
The main role of Pisum Sativum (Pea) Extract in cosmetics and skin care products is skin conditioning agent, which can restore skin activity and elasticity, purify skin tone, repair scars, highly moisturizing, and has little skin irritation. Pisum Sativum (Pea) Extract has a good promotion effect on the production of collagen, combined with its strong inhibition of elastase, indicating that Pisum Sativum (Pea) Extract has revitalizing and anti-aging effects,it can also be used in anti-wrinkle, firming, conditioning, anti-inflammatory and other skin care products.
The function of Pisum Sativum (Pea) Extract to maintain blood vessels is very powerful. It contains a lot of crude fiber, vitamins, etc., which can help to clean up blood vessel garbage, promote blood circulation, and have a very high nutritional value.
Pisum Sativum (Pea) Extract is rich in carotene, riboflavin, niacin, etc., especially high-quality protein, which is easily absorbed by the human body and plays an important role in enhancing human immunity, metabolism, and maintaining blood vessels. It can help to clean up vascular waste, reduce blood viscosity, prevent vascular sclerosis, enhance vascular elasticity, facilitate vascular relaxation, and be beneficial to human cardiovascular and cerebrovascular.
For more information of product, please send the email to [email protected]


After send online enquiry, we will reply you as soon as possible, if not get any response on time please contact us by Tel or Email.This form is unable to receive your inquiry from aol, hotmail, gmail or others but company email address.
E-MAIL:[email protected]
TEL: +86 592 536 5868
WHATSAPP: +86 189 6516 2351