Pineapple Extract
Pineapple Extract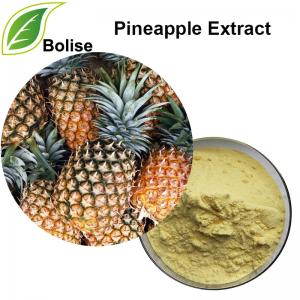 [ Botanical Name ] Ananas bractetur/Ananas comosus 
[ Specification ]  30~80%Bromelain
[ Detection method ] HPLC
[ Part of used ]  Fruit
[ Appearance ]  Yellow Brown Powder
[ Active ingredients ] Bromelain
Function of Pineapple Extract
1. Can inhibit tumor cell growth.
2. Can promote the absorption of nutrients.
3. Has a tender skin, the excellent efficacy whitening.
COA of Pineapple Extract
Loss on drying: 2.64%
Mesh Side: 100% pass 80 mesh
Extract Ratio: 10:1
Heavy metal: ≤10ppm
As: ≤0.5ppm
Pb: ≤0.5ppm
Cd: ≤0.5ppm
Residual Pesticide: Negative
Total Plate Count: ≤1000cfu/g
Yeast & Mold:  ≤100cfu/g
Salmonella:  Negative
E. Coli:  Negative
About Pineapple Extract
Pineapple is a kind of nourishing fruit, containing sugars, protein, fats, vitamin A, B1, B2, and C, proteolytic enzyme, calcium, phosphorus, iron, organic acid, nicotinic acid, and so on. Among them, the content of vitamin C is the highest one. Pineapple contains one kind of special substance, called "pineapple enzyme protein" which could decompose protein, dissolve fibrous protein and blood clot blocking in human tissue, improve partial blood circulation, and eliminate inflammation and edema. 
Pineapple Extract can diminish inflammation, facilitate digestion and improve immunological competence. So it can be applied in examination, treatment of gynecopathy, glaucoma and inset bitten.
Applied in hydrolyzing protein of plants and animals, so pineapple extract bromelain powder can be used in the meat tenderizer, wine clarifier, stabilizer of noodle, health foods and soy sauce brewing etc.
[ Storage ]
Store in cool & dry place; Keep away from strong light and high heat.
[ Shelf life ]
24 months when properly stored
[ Package ]
Enterprise standard. Drums or cartons, 25kgs/drum(carton),2.5kg/bag, double vacuum plastic packing (vacuum sealed foil bags) inside.
For more information of product, please send the email to bkherb@globals-globals.com


After send online enquiry, we will reply you as soon as possible, if not get any response on time please contact us by Tel or Email.This form is unable to receive your inquiry from aol, hotmail, gmail or others but company email address.
E-MAIL:bkherb@globals-globals.com
TEL: +86 592 536 5868
WHATSAPP: +86 189 6516 2351