Pine Pollen Powder
Pine Pollen Powder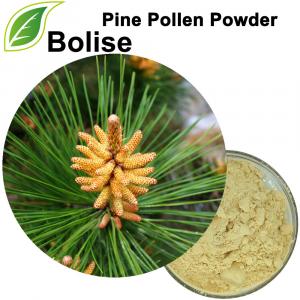 [ Latin Name ] Pinus massoniana L.
[ Appearance ] Light Yellow Powder
[ Specification ] 20:1
[ Part used ] Pollen
[ Functions ]
1.Improve immunity
2.Eliminate fatigue, improve sexual function
3.protect the heart, prevent vascular system diseases,
4.prevent diabetes prevention prostatosis
5.improve digestion, increase appetite, overcome constipation
6.relieve menopause symptoms
7.improve memory
8.promote children's healthy growth
9.beauty and skin care, anti-aging
[ Application ] Health products/Pharmaceutical
About Pine Pollen Powder
Pine pollen contains more than 200 kinds of nutrients, as 20 kinds of amino acids, 15 vitamins, 30 kinds of minerals, more than 100 kinds of enzymes, and nucleic acides, unsaturated fatty acid, lecithin, flavonoids, sugar, polysaccharide and other super nutrients in every single serving. This kind of natural perfect balanced combination, could be absorbed by the human body, and not have any side effect, is a super food supplement.
For more information of product, please send the email to [email protected]


After send online enquiry, we will reply you as soon as possible, if not get any response on time please contact us by Tel or Email.This form is unable to receive your inquiry from aol, hotmail, gmail or others but company email address.
E-MAIL:[email protected]
TEL: +86 592 536 5868
WHATSAPP: +86 189 6516 2351