Paulownia Tomentosa Leaf Extract 25% ursolic acid
Paulownia Tomentosa Leaf Extract 25% ursolic acid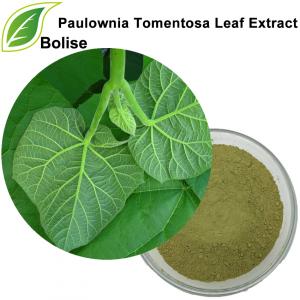 [ Latin name ] Paulownia fortunei (Seem.) Hemsl. P.tomentosa (Thunb.) Steud.
[ Part of Plant Used ] Leaf 
[ Appearance ] Light green powder
[ Active ingredients ] Aucubin, Paulownioside,Verbascoside,Isoverbascoside,Ursolic acid, Acetylursolicacid α, Acetylursolicacid β
About Paulownia Tomentosa Leaf Extract
Several crystals isolated from Paulownia Tomentosa Leaf Extract have a certain inhibitory effect on 8 common bacteria, influenza virus and Sendai virus. The minimum inhibitory concentration of ursolic acid contained in Paulownia Tomentosa Leaf Extract against Gram-positive bacteria, Gram-negative bacteria and yeast in vitro is 50-400μg/ml, 200-800μg/ml and 100-700μg/ml respectively. Paulownia tomentosa flower extract also has relatively strong bacteriostatic effects.
For more information of product, please send the email to sales@boliseco.com


After send online enquiry, we will reply you as soon as possible, if not get any response on time please contact us by Tel or Email.This form is unable to receive your inquiry from aol, hotmail, gmail or others but company email address.
E-MAIL:sales@boliseco.com
TEL: +86 592 536 5868
WHATSAPP: +86 189 6516 2351