NaFeEDTA
NaFeEDTA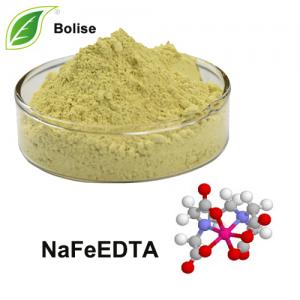 [ Detection methods ] HPLC
[ Chemical Name ]     
Sodium[[N,N'-ethanediylbis[N-(carboxymethyl) glycinato]] (4-)] ferrate(1-); Sodium [(ethylenedinitrilo) tetraacetato]ferrate(1-); Sodium iron (III) ethylenediaminetetraacetate 
[ Cas NO. ] 15708-41-5 
[ Molecular Formula ] C10H12FeN2NaO8•3H2O
[ Molecular Weight ]  421.09 (Trihydrate)
[ Particles ] 100 % passed 120 meshes 
[ Assay (basis of the trihydrate) ]   Iron 12.5-13.5% EDTA 65.5-70.5%
[ Description ]   
Light yellow coloured powder that is relatively stable and unaffected by storage.
[ Solubility ]  Soluble in water .
COA of NaFeEDTA
Fe:  12.5%-13.5%
PH(1%):  3.5-5.5
Loss on Drying: ≤14.0%
Water insoluble: ≤1.0%
NTA: ≤1.0%
Pb:  ≤1ppm
As:  ≤1ppm
[ Application ]  
Iron fortificant. YIDI IRON can be fortified in many kinds of foods, such as soy sauce, fish sauce, flour, powder drinks, etc. , and also can be used in dietary supplements.
About NaFeEDTA
NaFeEDTA is a new type of iron nutrition supplements. Because of their stability, absorption rate, no rust flavor without gastrointestinal irritation and does not affect the sensory quality of food benefits, in 1993 by the International Joint Expert Committee of Food Additives (JECFA) recommendation for the improvement of iron deficiency anemia food Nutritional supplements, followed in some countries and regions started production and use.
[ Package ]  20 kg/Box
[ Storage ]  5 years in the unopened original container and at normal temperature.
For more information of product, please send the email to bkherb@globals-globals.com


After send online enquiry, we will reply you as soon as possible, if not get any response on time please contact us by Tel or Email.This form is unable to receive your inquiry from aol, hotmail, gmail or others but company email address.
E-MAIL:bkherb@globals-globals.com
TEL: +86 592 536 5868
WHATSAPP: +86 189 6516 2351