Myrtle Leaf Extract (Essential oils)
Myrtle Leaf Extract (Essential oils)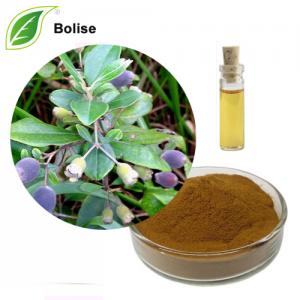 Latin Name: Myrtus communis L.
Used Part:  leaf and flower
Appearance: Brown Powder or Clear Yellow Liquid
Active Ingredients:α-pinene,1,8-cineole,Myrtenyl Acetate,Myrtenol, Geraniol, Linalool, Camphene, and Borneol
Benefits:
1.Makes the gums contract and strengthen their hold on the teeth;
2. Used in incense sticks and burners, fumigants, and vaporizers as room fresheners;
3. Relaxes and sedates the Body;
4.Alleviate problems like impotency, frigidity, erectile dysfunctions, and loss of libido;
About Myrtle Leaf Extract (Essential oils):
Myrtle Leaf Extract (Essential oils) is obtained by the steam distillation of the myrtle plant's flowers, leaves, and stem.It can be used for skin care and against hemorrhoids, acne, pimples, cystitis, infections in the urinary tract, and chronic problems like leucorrhea.
Myrtle leaf and flower were the valuable organs for the essential oil production representing a yield of 0.61% and 0.30% (w/w), respectively. The essential oil composition of myrtle leaf and flower was characterized by high proportions of α-pinene, the main compound of monoterpene hydrocarbon class, with 58.05% for leaf and 17.53% for flower. Stem was rich in oxygenated monoterpenes, largely due to 1,8-cineole with 32.84%.
Myrtle Essential Oil is used in a diffuser, this ancient Holy oil provides a metabolic uplift, increases mental focus, helps balance the serotonin level for ADHD. This oil has also been found to be helpful for autism.
Use with Eucalyptus, Niaouli and Lemon to prevent and fight airborne infections. Use for chest rub, vaporizer, diffuser both night and day.
For more information of product, please send the email to bkherb@globals-globals.com


After send online enquiry, we will reply you as soon as possible, if not get any response on time please contact us by Tel or Email.This form is unable to receive your inquiry from aol, hotmail, gmail or others but company email address.
E-MAIL:bkherb@globals-globals.com
TEL: +86 592 536 5868
WHATSAPP: +86 189 6516 2351