Moringa Extract (Moringa Oleifera Extract)
Moringa Extract (Moringa Oleifera Extract)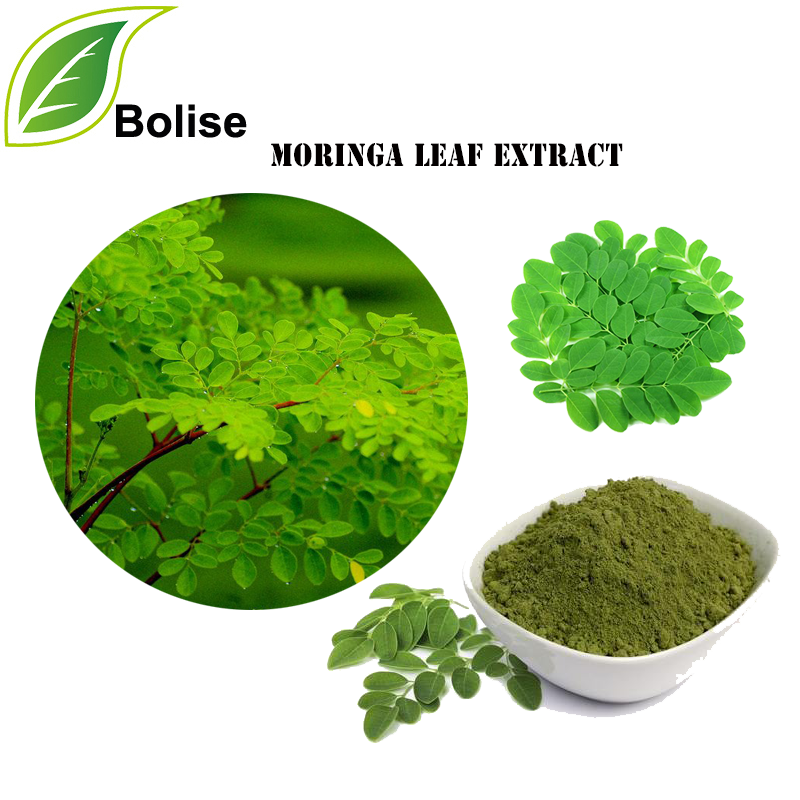 [ Botanical Name ] Moringa Oleifera
[ Synonyms ] Moringa leaf extract
[ Appearance ] Green powder
[ Used Part ] Leaves
[ Test Method ] HPLC UV
[ Specification ] 10:1 to 20:1
[ Active Ingredients ] Flavone
Function of Moringa Extract
Moringa extract powder will provide you with many benefits that you may notice within just days of using it. Moringa powder is perhaps the most nutrient dense single food source on the planet.
Enhance the body's immune system
Lower blood sugar level
Antioxidant
Anticancer
Promote energy
It inhibits the growth of gram-positive and gram-negative bacteria.
Application of Moringa Extract
1. As raw materials of drugs for anti-bacterial, anti-depressants, anti-tumor and sedation, it is widely used in fields of pharmaceutical and health products;
2. Applied in health product field , it can be used as the raw materials of health care product to enhance the immunity of human body;
3. As dietary supplements increased therapeutic function, it is widely used in fields of dietary supplement food products;
4. Applied in comestic field, as natural raw material of andneutral detergent, it can be added in hair shampoon and other detergents.
About Moringa Extract (Moringa Oleifera Extract)
Moringa Extract is made from the freshly harvested leaves of the Moringa Olivera tree. Fresh Moringa powder has a deep green color and a rich nutty smell. The nutrient-packed powder is soft and fluffy when it is pure and grown in organic conditions. It dissolves easily into water or juice and is an excellent ingredient in a variety of healthy recipes. Our 100% pure and organic Moringa powder is created from the fresh young leaves of organic moringa trees.
We harvest these trees every few months when they reach a height of approximately five feet. Moringa trees are second in the world only to bamboo in their speed of growth, and cutting the trees back stimulates a vigorous return of plant tissue and increased leaf production.
[ Storage ]
Store in cool & dry place; Keep away from strong light and high heat.
[ Shelf life ]
24 months when properly stored
[ Package ]
Enterprise standard. Drums or cartons, 25kgs/drum(carton),2.5kg/bag, double vacuum plastic packing (vacuum sealed foil bags) inside.
 
For more information of product, please send the email to sales@boliseco.com


After send online enquiry, we will reply you as soon as possible, if not get any response on time please contact us by Tel or Email.This form is unable to receive your inquiry from aol, hotmail, gmail or others but company email address.
E-MAIL:sales@boliseco.com
TEL: +86 592 536 5868
WHATSAPP: +86 189 6516 2351