Mogrosides
Mogrosides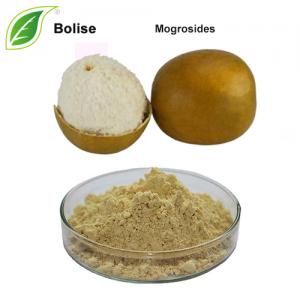 Appearance: Light yellow powder
Plant Part Used: Fruit 
Advantages of Mogrosides:
• High sweet degree. 
• Low calorie.
• Fine light color and fine water soluble.
• Good stability. 
• Safe and dependable. 
Physiological Function:
1, phlegm and antitussive effect;
2, anti-inflammatory and antibacterial effects;
3. scavenging free radicals and anti-oxidation;
4, hypoglycemic effect;
5, liver protection effect;
6, anti-cancer effect;
7, enhance immunity and other effects.
Application:
Sweeteners 
Lose weight 
Lower blood lipid 
About Mogrosides:
Mogroside is a glycoside of cucurbitane derivatives found in certain plants, such as the fruit of the gourd vine, luo han guo (Siraitia grosvenorii).Mogrosides are extracted from S. grosvenorii in manufacturing of artificial sweeteners.
Mogrosides are used in Chinese traditional medicine and some are extracted for manufacturing as sweeteners. Mogroside V extracted from S. grosvenorii fruit is 250 times sweeter than sucrose.In addition, it can be maintained at a pH value 2.0~10.0 for two years without quality affected.
Mogrosides can partially or wholly replace sucrose in the food industry. Mogrosides can be blended with some other herbal extracts (green tea, kudzu, etc.) to make teas and herbal drinks with alleged health benefits. Mogrosides can also be used in the dairy industry to develop a new product line, and it is also a sugar substitute for coffee and tea.
For more information of product, please send the email to bkherb@globals-globals.com


After send online enquiry, we will reply you as soon as possible, if not get any response on time please contact us by Tel or Email.This form is unable to receive your inquiry from aol, hotmail, gmail or others but company email address.
E-MAIL:bkherb@globals-globals.com
TEL: +86 592 536 5868
WHATSAPP: +86 189 6516 2351