Mogroside V
Mogroside V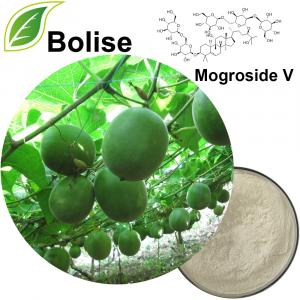 [ Latin Name ] Momordica Grosvenori Swingle
[ Part Used ] fruit
[ CAS No. ] 88901-36-4
[ Molecular Formula ] C60H102O29
[ Molecular Weight ] 1287.43
[ Appearance ] Light yellow to off white powder
[ Application ] Pharmaceutical/ Dietary supplement/Sweetner
About Mogroside V
Mogroside V is extracted from the fruit of siraitia grosvenorii, also known as monkfruit or luohan guo. Monk fruit extract is a natural sweetener, about 80-260 times sweeter than sucrose. Mogroside V powder is easily soluble in water and ethanol.
Mogroside V is a natural cucurbitane glycoside that can be isolated from S. grosvenorii. It is a sweet tasting compound that is used as a low calorie sweetener. Mogroside V has antioxidant properties and possesses tumor growth inhibitory activity in pancreatic cancer models.
For more information of product, please send the email to [email protected]


After send online enquiry, we will reply you as soon as possible, if not get any response on time please contact us by Tel or Email.This form is unable to receive your inquiry from aol, hotmail, gmail or others but company email address.
E-MAIL:[email protected]
TEL: +86 592 536 5868
WHATSAPP: +86 189 6516 2351