Mistletoe Extract
Mistletoe Extract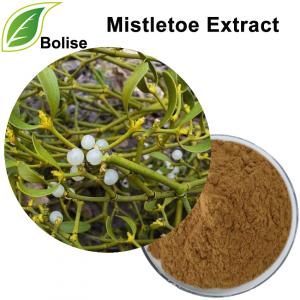 [ Latin Name ]  Viscum coloratum(Kom.)Nakai
[ Main ingredients ] oleanolic acid β-amyrin mesoinositol etc 
[ Specification ] 20:1
[ Appearance ] Fine Brown Powder
[ Used Part ] Whole herb
[ Specification ] 20%,30% ,10:1,20:1,5:1
[ Application ] 
1.Applied in medicine
2.Applied in health products
About Mistletoe Extract
The leafy stems and branches of the plant can be used for medicinal purposes, which can stimulate the circulation of the blood, cause the muscles and joints to relax, mprove blood circulation and disperse stasis. It can be used to treat muscle pain, limb contraction, back pain, bruises. It has the efficacy of nourishing liver and kidney, strengthening muscles and bones, dispelling rheumatism, comforting fetus, etc. Mistletoe Extract can improve microcirculation, and its total alkaloids also have anti-tumor effects.
The main ingredients of Mistletoe extract are lectins, mistletoe peptides, alkaloids and other active ingredients, among which phytohemagglutinin has obvious anti-tumor effect. The transplanted tumor experiment in animals proved that the lectin in the extracted mistletoe extract not only has an inhibitory effect on the primary tumor of transplantation, but also has a more significant inhibitory effect on tumor cells as well as inhibition of angiogenesis.
For more information of product, please send the email to sales@boliseco.com


After send online enquiry, we will reply you as soon as possible, if not get any response on time please contact us by Tel or Email.This form is unable to receive your inquiry from aol, hotmail, gmail or others but company email address.
E-MAIL:sales@boliseco.com
TEL: +86 592 536 5868
WHATSAPP: +86 189 6516 2351