Mimosa Extract
Mimosa Extract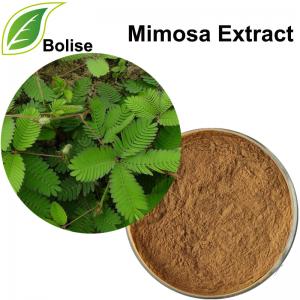 [ Botanical Name ] Mimosa pudica Linn.
[ Appearance ] Brown Fine Powder
[ Used Part ] Whole Herb
[ Test Method ] TLC
[ Specification ] 10:1
[ Active Ingredients ] Mimoside  
Function of Mimosa Extract
1.With the function of clearing heat and diuretic, expectorant, sedative and analgestic;
2.With the function of treating acute conjunctivitis, bronchitis, gastritis, enteritis and urinary stones;
3.With the function of treating bruises, sore swelling;
4.With the function of improving blood circulation and detoxification.
COA of Mimosa Extract
Loss on drying: ≤5.0%
Mesh Side: 100% pass 80 mesh
Extract Ratio: 10:1
Heavy metal: ≤10ppm
As: ≤0.5ppm
Pb: ≤0.5ppm
Cd:  ≤0.5ppm
Residual Pesticide:  Negative
Total Plate Count: ≤1000cfu/g
Yeast & Mold:  ≤100cfu/g
Salmonella:  Negative
E. Coli:  Negative
About Mimosa Extract
Makahiya(Mimosa Pudica) is a diffusely spreading, half-woody herb, with branched stems up to 1 meter long, sparingly prickly with numerous deflexed, bristly hairs. The leaves are very sensitive, both pinnae and leaflets, folding when touched. Pinnae are usually 4, digitately arranged at the end of each petiole, and 4 to 9 centimeters long. The leaflets are narrowly oblong, inequilateral, 1 to 1.5 centimeters long, sessile, sparingly bristly, with pointed tips. Heads are long-peduncled, solitary or 2 to 3 in each axil, about 1 centimeter in diameter. Pods are flat, slightly recurved, 1 to 2 centimeters long, with 3 to 5 one-sided joints that fall away on maturity. Florets are red in the upper part with pink to lavender filaments.
For more information of product, please send the email to bkherb@globals-globals.com


After send online enquiry, we will reply you as soon as possible, if not get any response on time please contact us by Tel or Email.This form is unable to receive your inquiry from aol, hotmail, gmail or others but company email address.
E-MAIL:bkherb@globals-globals.com
TEL: +86 592 536 5868
WHATSAPP: +86 189 6516 2351