Manihot Esculenta Extract(Cassava Leaf Extract)
Manihot Esculenta Extract(Cassava Leaf Extract)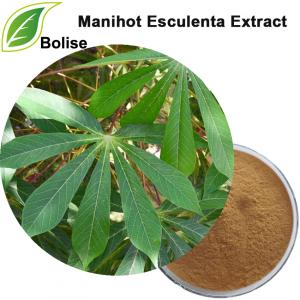 [ Latin name ] Manihot esculenta
[ Part used ] Leaf
[ Specification ] 5:1,10:1,12:1
[ Test Mothed ] HPLC/UV
[ Appearance ] Yellow brown powder
[ Function ]
1. Prevent osteoporosis,muscle spasm,deadlimb,limbs pain
2. Effective therapy for periarthritis of shoulder,Fascia inflammation,cervical spondylosis,Knee pain
3. Prevent children dysplasia,teething slow, saprodontia,rickets & Deformity leg.
About Manihot Esculenta Extract(Cassava Leaf Extract)
Manihot esculenta, commonly calledcassava, manioc, yuca, macaxeira, mandioca and aipim, is a woody shrub native to South America of the spurge family, Euphorbiaceae. Although a perennial plant, cassava is extensively cultivated as an annual crop in tropical and subtropical regions for its edible starchy tuberous root, a major source of carbohydrates. Cassava is predominantly consumed in boiled form, but substantial quantities are used to extract cassava starch, called tapioca, which is used for food, animal feed, and industrial purposes. It can be made into a flour that is used in breads, cakes and cookies. 
At present, Manihot Esculenta Extract is mainly used to obtain its roots for the production of starch and ethanol. In addition, cassava leaves are used as an herbal medicine by being dried and ground into leaf powder, and used in conjunction with other herbs to treat certain diseases. Therefore, cassava leaves have good health care effects. The main active ingredient of cassava leaf ethanol extract is flavonoids, which are one of the main active ingredients in medicinal plants in nature, which can eliminate oxygen free radicals. , regulate blood lipids, be anti-tumor and anti-virus and have other physiological activities.
 
For more information of product, please send the email to [email protected]


After send online enquiry, we will reply you as soon as possible, if not get any response on time please contact us by Tel or Email.This form is unable to receive your inquiry from aol, hotmail, gmail or others but company email address.
E-MAIL:[email protected]
TEL: +86 592 536 5868
WHATSAPP: +86 189 6516 2351