Lutein
Lutein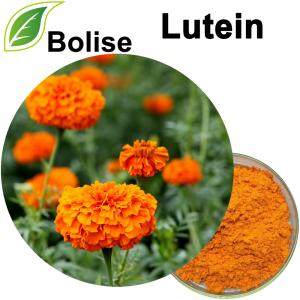 [ Botanical Source ] Marigold Flower
[ CAS No. ]  127-40-2
[ Molecular Formula ]  C40H56O2 
[ Molecular Weight ]  568.88
[ Appearance ]  Orange Yellow Powder
[ Specification ]  Lutein 90%HPLC
[ Application ] 
1. Applied in food field, it is used as a kind of natural colorant, which can add color for goods;
2. Applied in health product field, lutein can replenish nourients for eyes, protect the retina;
3. Applied in cosmetics field, it is always used to reduce age pigment of people.
About Lutein
Lutein is yellow to orange carotenoid found in dark green leafy vegetables like marigold, spinach and kale, yellow corn, egg yolks, squash, and carrots.extracted from marigold flower extract is very hot in market. Lutein is concentrated in the retinas of your eyes, so it's thought to be beneficial for vision. Lutein is also one of the antioxidants that appear to be useful as a supplement. And lutein could help slow down the progression of macular degeneration.
Lutein Powder are widely used in food additives, also used as a medicinal pigment.
For more information of product, please send the email to [email protected]


After send online enquiry, we will reply you as soon as possible, if not get any response on time please contact us by Tel or Email.This form is unable to receive your inquiry from aol, hotmail, gmail or others but company email address.
E-MAIL:[email protected]
TEL: +86 592 536 5868
WHATSAPP: +86 189 6516 2351